Observing Surface Currents in the Strait of Georgia
With billions of dollars and millions of passengers passing through this delicate ecosystem each year, it is important that professional mariners and recreational boaters alike know how strong currents may alter their float plan. Below are recent observations (PST: UTC -8:00, PDT UTC -7:00) from an oceanographic radar system.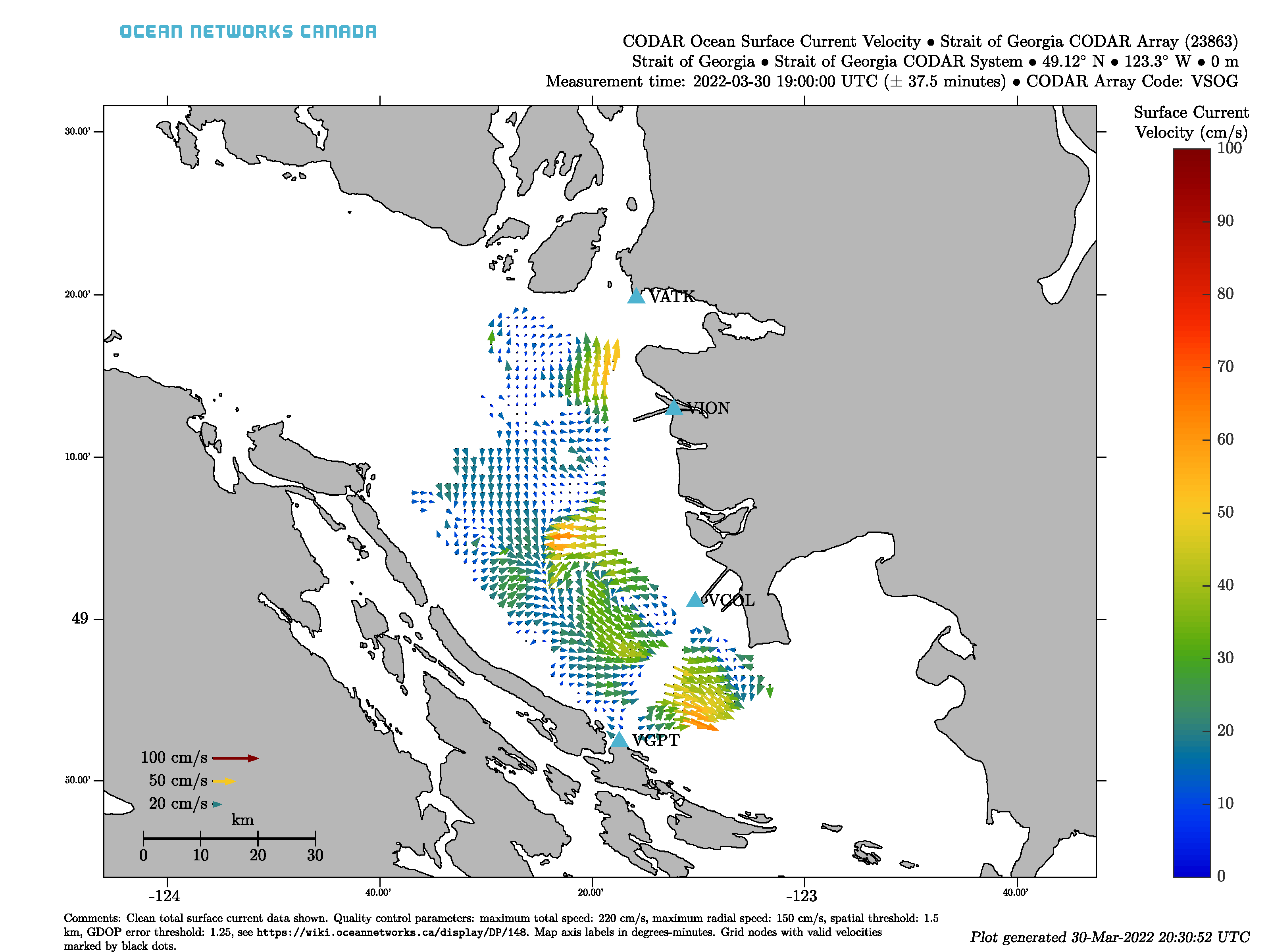 Disclaimer: Observations are hourly averages (NOT real time) and should be considered with care prior to use in navigation.  
Who Should Use This Data?
Observations of surface currents are used by researchers studying circulation and those in maritime industries such as marine search and rescue; oil spill prediction and response; and commercial and recreational vessel operators. With current speeds approaching two knots (3.7 kilometers per hour) in some locations and changing rapidly with both tidal and wind conditions, this is another tool for the marine community to utilize in their preparations and operations on the water.
How Are These Observations Made?
A network of four land-based high frequency (HF) radar stations (see map) are operated by Ocean Networks Canada. These stations transmit and interpret radio waves that have been reflected and scattered off the ocean surface. By combining data from multiple stations, scientists are able to calculate the velocity of the surface current. These observations represent an average over the previous hour and are not representative of the immediate or future conditions. Mariners should use appropriate caution when considering this data.  
The Strait of Georgia is vitally important to Canada's cultural, ecological, and economic health. Safely navigating these busy waters—home to Canada's largest port, major marine highways, productive fisheries, and iconic killer whales—is essential for the Strait's future productivity. All the activity through this waterway combined with the strong tidal currents could quickly make any maritime accident become catastrophic. Mariners should consider available observations in their planning and during their voyage to prevent marine incidents.
This data application is currently under development with continued improvements planned in 2021. Please check back to see new features.